Diverse Voices in Docs (DVID) is a professional development and mentorship program for emerging documentary filmmakers of color, organized by Kartemquin Films and the Community Film Workshop​. At the core of the program are six engaging monthly workshops, with creative advice provided by Kartemquin Films' world-class staff and associates. Each session provides practical, skills-based enrichment designed to help incubate and strengthen the participants' next documentary project​s.
In its second year the DVID program hosted an exceptional group of talented storytellers. ​This past Saturday, these participants had the opportunity to pitch their ​projects at a Funder Roundtable hosted at Community Film Workshop, in hopes of gaining funding for their new projects, but more importantly to receive beneficial feedback on their films. ​​Panelists ​included Luis Romero from Illinois Humanities Council, Dan Andries from WTTW Channel 11, N'Jeri Eaton from ITVS, and Lauren Pabst from MacArthur Foundation. ​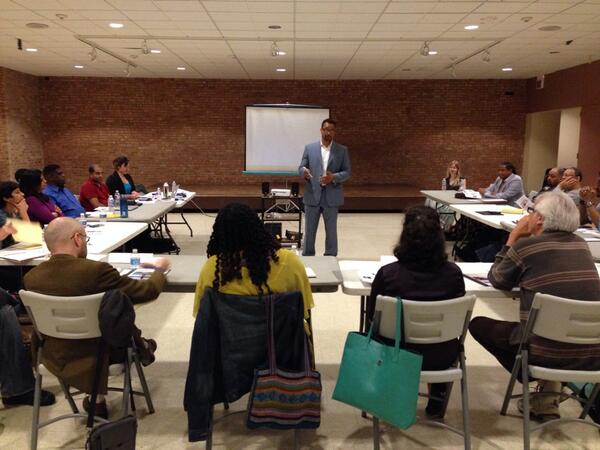 After the pitch session, the DVID coordinators welcomed the 2014 participants to a reception located in the Reva and David Logan Center for the Arts at the University of Chicago. Everyone that was involved with the ​2014 ​program had a chance to mingle, converse, and also to have an enjoyable time with one another. DVID strives to create a network for filmmakers of color to collaborate and support each other's careers, promote films by filmmakers of color, and diversify the documentary market. Now that the program is complete, the filmmakers will continue with their projects, presenting work to the public in a final 'graduation' event this October, which will also mark the opening of applications for the class of 2015. Stay tuned for details on the date!
The 2014 Diverse Voices in Docs filmmakers:
Jeff Baraka
Cathena Evans
Joelle Gonzalez-Laguer
David D. Grace
Stephen Hatch
Thavary Krouch
Bing Liu
Esaú Meléndez
Bryant Monteilh
Noel Occomy
Ife Olatunji
Lourdes Ortega
John Owens
Anuradha Rana
Toni Reed
L. Anton Seals, Jr.
Kamau Tyehimba
Samuel Vega
Lajwanti P. Waghray