On Wednesday March 19th, The One Club, the industry-leading organization dedicated to promoting and recognizing excellence in advertising and design, will celebrate the impact of Typeface by holding a 5th anniversary screening of the film at The One Club headquarters in New York City. Typeface director Justine Nagan will introduce the film and invite the audience to participate in a lively discussion about the changing world of type and design afterwards. Get tickets here.
Typeface originally sneak previewed in Minneapolis at the Walker Art Center to sold-out screenings in 2008. In two nights, 600 hundred people packed into the auditorium to view this moving tale of how analog art continues to inspire new artists in the digital age. Typeface focused upon the then struggling Hamilton Wood Type and Printing Museum, now a Midwestern hub that attracts international artisans who continue the tradition of analog letterpress in the age of modern graphic design.
Justine Nagan's award-winning directorial debut was also the first film to roll out of Kartemquin Films after she assumed the helm as Executive Director. The film's low-budget yet revenue-generating self-distribution strategy created new models of social impact and digital outreach that also paved the way for future release models for Kartemquin documentaries. Through blogs and social media, type and design enthusiasts found the film and we collaborated with typographic artists and alternative venues to distribute it. Screenings became showcases for the love of letterpress and wood type, with local hosts crafting original, letter-pressed posters, signs and even tickets, and organizing demonstrations and educational workshops. With each ingenious screening event, word spread among the creative community, bringing new bookings, both domestic and international.
Buzz rose when Typeface landed a spot on YouTube's homepage and offered greater exposure to the film. Immediate results yielded a +1,042.39% increase of traffic to the Typeface website. As the online interest exploded, the outreach team independently secured PBS broadcasts of the film in over 40 states, and sold thousands of self-produced DVDs.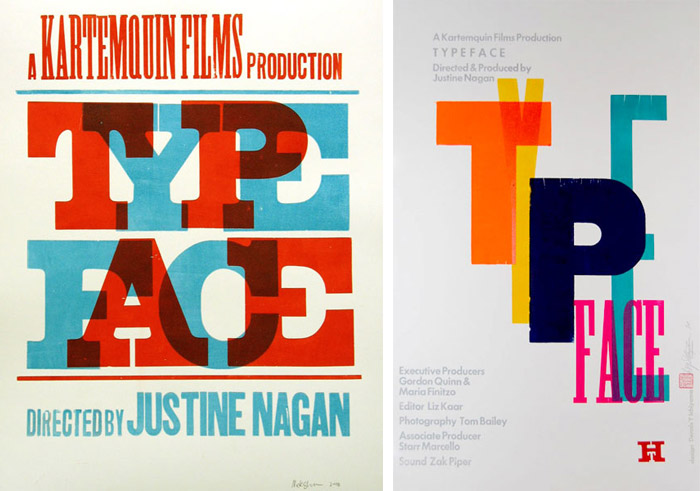 In the long-term, Typeface would help move Hamilton Wood Type and Printing Museum from the rural margins of Two Rivers, Wisconsin to the racks of the major retailer, Target, as a "Vintage Varsity" clothing line - in-part due to a Target designer seeing the film at those very first screenings in Minneapolis.
The impact of the film on the museum itself was direct and profound. Within the five years since Typeface debuted, Hamilton Wood Type and Printing Museum has weathered considerable change: a flood, an eviction, and eventually, a relocation to house their unmatched collection of over 1 million pieces of wood type. Given only a 90-day eviction notice, Museum Directors Jim and Bill Moran led an ambitious campaign to raise $250,000 to preserve and relocate the precious wood type – which includes 2,000 historic advertising blocks used in the printing industry from 1880 to 1985. Screenings of Typeface were held as fundraisers. Present day, the Museum proudly remains in Two Rivers, Wisconsin open to the public and offering workshops for artists, printers, historians, and scholars.
Typeface can to be seen via Amazon, iTunes, YouTube, and on DVD.