Our classic documentary Hoop Dreams is available today on Blu-Ray for the first time, courtesy of The Criterion Collection. Besides a wealth of extras, including essays by author John Edgar Wideman and filmmaker and critic Robert Greene (who states: "There isn't a better argument for the social value of long-form nonfiction filmmaking than Hoop Dreams"), two separate audio commentaries with the filmmakers and subjects, and additional footage taken during the five year recording process, the blu-ray boasts an incredible high-definition digital restoration and a 4.0 surround DTS-HD Master Audio soundtrack.
The blu-ray release has already garnered praise for the quality of the transfer and the continuing relevance of the film itself. Chuck Bowen of Slant gave it an exultant five-star review. He writes, "Hoop Dreams is an epic, fluid, intricate panorama of the intersection between private and corporatized American life," and calls the 4.0 surround soundtrack "startlingly cleaner and more immersive" than the DVD release. Visit the Kartemquin store and order a copy today for 25% off the standard price.
In honor of the milestone release, we're presenting the opportunity to listen to an audio recording of the "Hoop Dreams at 20" panel discussion, which was part of the 2014 Full Frame Documentary Film Festival retrospective honoring Steve James (Full Frame 2015 starts next week; make sure to check out Kartemquin's new film Saving Mes Aynak there!).
Filmmakers Steve James, Peter Gilbert, Adam Singer, and Gordon Quinn spoke with subject Arthur Agee and his mother Sheila about the filmmaking process that lead to the landmark film. Throughout the conversation, which is peppered with never-before-seen clips that are now released for the first time on this new Blu-Ray, the participants speak about key filmmaking decisions, such as how to portray Bo's battle with addiction, and to exclude the re-marriage of Arthur's parents from the film. Additionally, Agee touches on important cultural icons that shaped his childhood like The Cosby Show, Isaiah Thomas, and Michael Jordan. It's a must for any hardcore Hoop Dreams fan.
Listen to the full event here (we're forever grateful to filmmaker, festival director and journalist Michael Dunaway for recording this audio for us):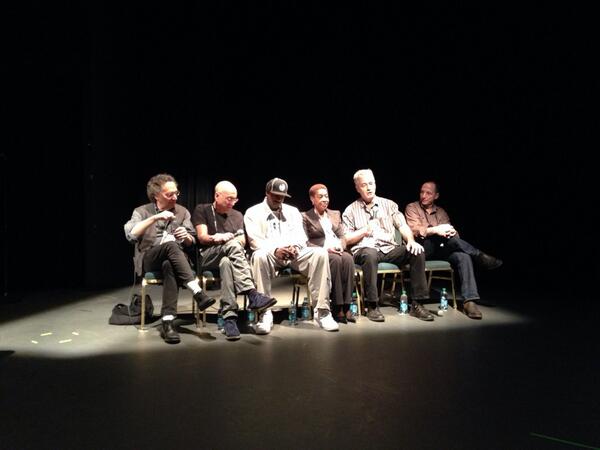 At the Full Frame panel "Hoop Dreams at 20" panel, L-R: Gordon Quinn, Peter Gilbert, Arthur Agee, Sheila Agee, Steve James, Adam Singer.