The Kartemquin Newsletter
November 2011
Giving Thanks - 50% off!
Oscars snub The Interrupters, but Mayors endorse it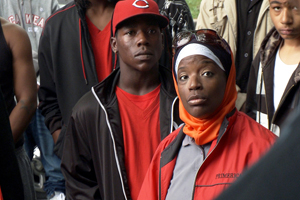 While the world's biggest documentary festival (IDFA), was honoring Steve James, Academy Awards voters shocked the documentary community by snubbing the hotly-tipped The Interrupters (among others) on its shortlist for the 2012 Oscars, sparking a massively negative response. We're thankful for all the notes of support we received from fans and filmmakers.
Awards aren't important beyond the greater exposure they give to the message of the film. In that respect, we were heartened by the news that the Mayors of 3 major cities - Milwaukee, Philadelphia and Toronto - are organizing free screenings of The Interrupters.
We are also honored that The Interrupters will be the first recipient of the Channel4 Britdoc Connect Fund, with a grant directly aimed at supporting audience engagement.
The Interrupters continues to play in theaters in the US. And in the UK the film has its world television premiere on BBC Four this Sunday, December 4th at 9pm via BBC Storyville, and is released on UK DVD on December 5th through Dogwoof.